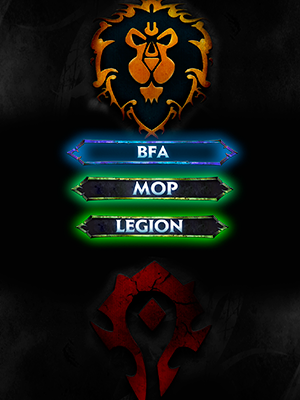 END OF PVP SEASON FOR MOP - LEGION - BFA !
Greetings !
This announce will concern solely the PVP aspect for MOP, Legion & BFA where the current PVP season will end on Wednesday, September 29th at 11 AM !
This will be followed by an interseason of 1 week where all ranked matches will be disabled while we perform the last checks, and a new season will start on Wednesday, October 6th !
On top of that, we have some additional information to share specifically for MOP & BFA related to the PVP system so make sure to read through everything !
The rewards themselves, and the requirements aren't specified yet as things usually evolve quite fast in the last 2 weeks, but this post will be edited to include them once they are sorted out. In the meantime, give it your best so you don't have any remorse !
Good luck for the last push
MISTS OF PANDARIA
As we did last time, we'll also be rewarding the 2v2 bracket this time, and gladiators will also receive Firestorm points !
As mentioned above, the threshold still need to be decided, as well as the rewards but we would like to make it less "common" to get the mount & title, so there will be fewer places than last times: you will thus have to fight even harder to secure a top spot !
We plan on giving the Ruthless Gladiator title & mount for this season, but stay tuned for the official listing of rewards !
Additionally, we know many of you suffer from people using cheats in arena and we are happy to announce that we got a solution for that ! It requires an update of the client (more info & links will be provided in time) but starting next season there shouldn't be any cheater in your ranked games: skill only will matter !
LEGION
Rewards will as usual be distributed in the 2v2 and 3v3 bracket. As this is the 8th season on Legion, we still need to discuss which gladiator title & mount we will give, but this will be a returning one which is what will happen from now on.
Stay tuned for the list of rewards and their threshold !
BATTLE FOR AZEROTH
Considering the time since this 4th season started, we though it was best to put an end to it and restart it freshly to give a second breath to PVP on Sethraliss.
As usual the top players of the 3v3 and 2v2 will receive the seasonal gladiator title & mount, and we'll also give the regular gladiator to the best 2v2 bracket players considering its activity.
Additionally we have some things planned to boost the PVP activity on the realm. We're aware of some of the issues there are, and similarly to the summer event introducing custom things on Sethraliss, we plan to do some specific things to make PVP more appealing: less randomness in rewards, a better chance to fight higher ilvl oppenents and a better control over wintrading.
More information will come shortly once we've set up everything properly for the new season !
More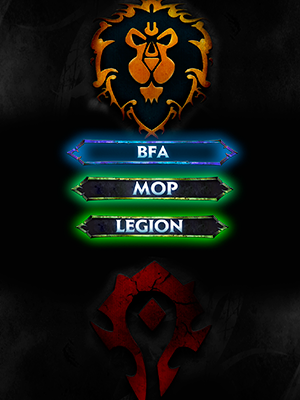 September 16, 2021
END OF PVP SEASON FOR MOP - LEGION - BFA !
More

Firestorm
30176 like

Firestorm International
September 17, 2021
Greetings !

The current PVP season on Sethraliss will end on Wednesday, September 29th 11:00AM ! Followed by a 1 week interseason, and then a fresh new one !

For the next season we also have some changes planned to give PVP a breath of fresh air and tackle the main issues you guys complain about: wintrading, randomness and difficulty to gear as well as the unfairness to fight higher ilvl characters.

More info on our website, good luck for the last 2 weeks !

Firestorm International
September 2, 2021
Greetings Firestorm ! We have 3 important things to discuss so read until the end !

First of all, we're gonna have a shop promotion of 30% until Monday, September 6th: that means every purchase will include 30% additional free points ! A perfect opportunity to help you gear up for the last BFA content that is available on Sethraliss: Ny'alotha's Mythic Mode !

Now that we have your undivided attention, let's talk a bit about BFA:
The feedback we had on the summer event we hosted since July was unanimous, you all seemed to enjoy everything that came with it: therefore we decided to keep it active until further notice ! So don't worry about the extra loots, the custom world boss and everything, it's not going away anytime soon :) For more information on the event itself, you can read here: http://fstorm.cc/EN-Summer-Update

Finally, we wanted to share with you a little project we've been secretly thinking about for some time: a Firestorm MDI, an MM+ tournament with a real cashprize ! There isn't enough to share details yet, but you can expect an official announcement this month, with all of the information (how it will be organized, how to apply, the prizes etc). You better be on your A game !

We wish you all a nice weekend, and good luck to those that will resume school or work !

Firestorm International
August 11, 2021
Greetings BFA!

The full Mythic mode of Ny'alotha, the waking city is now available on Sethraliss!
12 bosses await at full power! The top 3 guilds will receive a special reward for defeating the old god N'Zoth, the race is on!

For more information, including boss strategies you can head here: http://fstorm.cc/EN-NYALOTHA-MYTHIC

Good luck champions of Azeroth!

Firestorm International
July 21, 2021
The fourth and final wing of Ny'alotha is out, with Carapace of N'zoth and N'zoth the corruptor himself waiting in LFR, NM and HM difficulties !
You only have a couple weeks before the Mythic mode of the raid is fully available, so don't waste any time !

Also, the shop was updated to include:
the 2 boss items in lootboxes and individually
corruptions individually so you can get exactly the one you need !

Have a nice day and good luck for the Waking Dream wing !

Firestorm International
July 14, 2021
Greetings Firestormers!

For the whole summer, we wanted to do something we've never done before, and here it is: a summer update!
While most of it will affect solely Sethraliss, something you already know that rimes with 10 will be applied on all of our realms.

We can't possibly give you the full list here, so we urge you to head there so you don't miss anything: http://fstorm.cc/EN-Summer-Update

Things start tomorrow morning, so don't miss the GO!
We wish you all a nice summer,
The Firestorm Team.

Firestorm International
June 15, 2021
The 7 essences of 8.3 have been added to our shop !
Formless Void, Spark of Inspiration, Breath of the Dying, Strength of the Warden, Touch of the Everlasting, Unwavering Ward and Spirit of Preservation are now available in rank 3 and rank 4 !

Firestorm International
June 4, 2021
The shop has been updated to include Ny'alotha's 3rd Wing items !

They are available individually, and also included in the Ny'alotha Raid lootboxes.

Have a nice day !

Firestorm International
June 2, 2021
Ny'alotha's 3rd Wing is now available !

Fight Shad'har, Drest'agath and Il'gynoth in LFR, NM and HM difficulties: the last guardians before the old god N'zoth !

Good luck champions !

Firestorm International
May 27, 2021
It's been a while, and some of you are on holidays so we figured now would be a good time to have a SHOP PROMOTION!
Until Monday May 31st, 11:55PM server time, any Firestorm point purchase will grant 30% extra points!

To buy points: https://firestorm-servers.com/account/points
You can then spend them on the shop here: https://firestorm-servers.com/shop/index

Enjoy the sunny days, but don't forget your cream :)
Have a nice weekend !

Firestorm International
May 12, 2021
Greetings everyone!

Firestorm wishes everyone celebrating around the world a happy Eid-Al-Fitr.
May this Eid be as bright as ever.

Enjoy and Eid Mubarak to everyone!