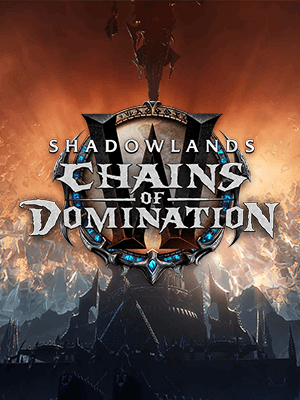 Oribos 9.1 Content Update
Greetings everyone!
Six months after the release of Oribos, we are now ready to announce the next content update: patch 9.1 Chains of Domination!
The update will be released on our server on Monday, July 4th, and won't require you to do anything: since our client is already in 9.1.5, you already have everything that's needed. Cool, right?
On top of that, Boris will also come back on that same date for a full week in all of our realms! Get a free boost that includes some gear to jump straight into the action with some friends!
This update includes a lot of new content as every new patch does, so you better be ready!
2 New zones: Korthia and Desmotaeron with their questline, rares, treasures, reputations, weeklies, dailies & more! A new 10-boss raid: Sanctum of Domination An 8-boss Megadungeon: Tazavesh, the Veiled Market A new World Boss: Mor'geth, Tormentor of the Damned Additional Torghast content & rewards A new season for Mythic with upgraded rewards and a new seasonal affix: Tormented A new season for PVP with adaptable gear & new rewards 40 additional Renown levels, Covenant campaign continuation Flying in the Shadowlands Many new collectibles and secrets
This looks pretty complete: regardless of what you enjoy best rest assured we got you covered!
But we've only scratched the surface, let's dive into each of those to give you a better idea of what awaits you in a few days!
NB: Since the release of Oribos we already have every class balance change of patch 9.1.5 applied. Therefore no changes are to expect in that area (which includes PVP talents, class buffs / nerfs, etc). On top of that, we will also reset all currencies: conquest, honor, and valor.
KORTHIA & DESMOTAERON
In the Chains of Domination patch Korthia - a subzone south of the Maw - will be your new hub. As such, a lot of things will happen here and it's easy to get sidetracked: so follow the (long) guide!
You will first access Korthia during the second chapter of the patch's main questline: The Chains of Domination Campaign. As you progress through this chapter, you will unlock every content this new zone has to offer, including a portal that joins it to Oribos and daily quests.
This questline is the direct follow-up to your 9.0 Covenant campaign and is now unique (not related to your Covenant choice). On the day of the release, the first 3 chapters will be available, and an additional one will be released every 2 weeks including 4 new Renown levels.
NB: To unlock this questline, you will have to complete the 2nd chapter of your Covenant campaign first.
A formerly closed zone of the Maw: Desmotaeron will now be available as well! Tied to Korthia, you will alternate back and forth between the two.
Now that you know how to access Korthia, let's see what you can actually do there. By the way, were you tired of walking? You will finally be able to ride all mounts inside the Maw and Korthia!
Keeper's Respite is the main hub inside Korthia, where the majority of the NPCs are, preparing their stand against the Jailer. You will find here an obelisk that leads to Oribos and a flight path to the Maw, as well as an innkeeper, a mailbox, a repair NPC and a stable master for your convenience. This place is also home to the 2 new factions of the patch: Death's Advance & The Archivists' Codex.
Death's Advance is the main faction of Chains of Domination, unlocked after completing the 2nd chapter of the campaign. Completing Korthia's dailies and weekly quest will count towards this reputation, but so will many activities in the Maw: Covenant assaults, Tormentors of Torghast events, and the Desmotaeron weekly World Quest to name a few! By earning reputation and gathering Stygia you will then be able to purchase 220 ilvl gear, armor tints, flying mounts as well as Season 2 sockets! For a more detailed explanation of this new faction, you can
head here
.
The Archivists' Codex is the secondary faction, unlocked by completing its dedicated questline which starts by looting
Researching Korthian Relics
in Korthia. Mainly concerned about knowledge preservation, the best way to farm this reputation is by obtaining Korthian relics, most notably from rare mobs and treasures across the zone but also through 20 quests scattered all around Korthia. In doing so you will advance in ranks which will, in turn, unlock various rewards at the vendor: Season 2 sockets, conduits, and ilvl upgraders to name a few, a great way to catch up your alts! For a complete overview of this faction, you can read
this guide
.
Shaping Fate
, a Weekly Quest asking you to do various activities: daily quests, looting Treasures and Rares in Korthia and the Maw, or complete any of the new Maw events from the patch for many rewards, including a
Korthite Crystal
...
28 Rares populate Korthia and the Desmotaeron area in the Maw, each looting Reservoir Anima (for your Covenant), Cataloged Research (for The Archivists' Codex), and a chance for gear and conduit! Many Treasures can also be found all around those 2 zones, containing gear tokens, conduits, Cataloged Research, and more! If you want to know every location and details about rares and treasures you can follow
this guide
.
The Maw also gets additional events in this patch: Twice a week a Covenant will strike a specific area of the Maw, starting an assault. Once you've completed its 4 related quests asking for various tasks in the area you will receive a cache full of rewards! For more details on assaults, head
here
.
Kel'Thuzad will sometimes send his lieutenants from Torghast to attack certain areas, which will be announced in-game. This will fill that part of the map with mobs specific to the lieutenant's original wing. By killing them a Tormentor of Torghast will finally spawn which loots various things when slain.
Also worth noting: after completing the 3rd chapter of the storyline, the eye of the Jailer mechanic will be removed which means your strolls will no longer be time-gated. Convenient!
Mor'geth, Tormentor of the Damned, a new World Boss in the Desmotaeron looting 233 ilvl gear!
Flying is now easy to obtain: no need for grinding! You will unlock it account-wide once you've completed the 4th chapter of the Campaign, released 2 weeks after the patch. This will allow you to fly in all four Covenant zones of Bastion, Maldraxxus, Ardenweald, and Revendreth but not in Oribos or the Maw!
Legendaries now have 2 additional ranks! To upgrade or create a rank 5 or 6 legendary base you will need a Vestige of Origins, crafted with
Korthite Crystals
! You'll get them by doing dailies and the weekly quest, and in some treasures!
As you can see, you will have a lot on your plate! Many achievements have been added related to activities in Korthia and the Maw, to keep you busy for a while. Don't think about skipping the rest though: many other additions in the patch want you to read about them so keep scrolling!
TORGHAST UPDATE
Our favorite tower has also received many changes and new features in Chains of Domination, to keep it entertaining and attractive!
Four Additional Layers have been added, which means 12 in total! From the 9th layer onward you will unlock the new
Soul Cinders
currency, used to craft Legendary-quality gear
A Floor has been removed from each run, with the boss now located in the 5th one. You will still find as many - if not more - anima powers despite the loss of a floor, so don't worry!
Bosses no longer regenerate if you wipe on them. This will make it more likely for you to get your currencies even if it requires a bit more attempts!
A new Scoring System has been added which replaces the old Death Counter: no more lose condition, no more Tarragrue (this is because he found a new job actually) ! Instead your progression will be measured using a Score system that will tell you - once the run is completed - how you performed and if you unlocked the next layer. Many factors are taken into account under this system which is detailed
here
.
Torments - the negative buffs - are no longer themed around the wing you're doing (increased health for Coldheart Interstitia, etc): they are now selected from a pool of around 20 different buffs and will change daily. The number of active torments will now scale on the Layer you're running: no torments up until layer 5, and up to 5 on layer 12! For more details, check
this guide
.
The Box of Many Things is a new talent system specific to Torghast that will grant you different perks, in order to counter the impact of Torments! To unlock those perks you will need to obtain
Tower Knowledge
in your runs: the higher the layer, and the better your score the more you will get! This currency has a season cap that increases weekly, allowing for an easy catch-up on alts. If you're looking for a guide, we suggest
this one
.
Renown can now be obtained in Torghast to give your characters another means to catch up!
Soul Ash
is now a lot easier to obtain, as all drop values have been increased. A new currency,
Soul Cinders
, has been added for layer 8 and above runs, which is needed to upgrade to Rank 5 (249ilvl) and Rank 6 (262ilvl) Legendaries!
Adamant Vaults are 2 additional floors you can access when completing a layer 9 run with a "flawless" score. In there you will find new enemies, tricks, and traps waiting for you, alongside unique bosses on the 7th floor! Defeating him will grant additional Tower Knowledge but the main perk comes from that floor's Broker which sells unique transmogs! For more information regarding Adamant Vaults, please head
here
.
Quite a lot of changes and additions were made to Toghast in this patch, to keep it challenging: those of you who will flawlessly clear all 12 layers will get
an achievement
and its corresponding - definitely badass - mount, good luck to you!
RAID: SANCTUM OF DOMINATION
Sylvanas Windrunner has been an antagonist for a while now, and if the prospect of defeating her personally puts a smile on your face then Sanctum of Domination is the raid for you! It features new unique features, which you can read about below the generic coverage.
Located in Desmotaeron (the Maw), this is a 10-boss encounter, subdivided into 4 wings (Sylvanas the final boss being in her own wing). The first one will be available right away in LFR (213 ilvl), NM (226 ilvl) and HM (239 ilvl) difficulties, comprised of 3 fights:
Tarragrue
Eye of the Jailer
The Nine
And 7 more waiting in the next wings:
Soulrender Dormazain Remnant of Ner'Zhul Painsmith Raznal Guardian of the First Ones Fatescribe Roh-Kalo Kel'Thuzad Sylvanas Windrunner You get the idea, just like we did with Castle Nathria we're gonna release this raid wing by wing at an accelerated schedule: every 2 to 3 weeks tops. This ensures we have enough time to fix any issues while keeping a good pace of release from a player's perspective: an efficient compromise!
You can therefore expect the 2nd one to be released before the end of July. Once all wings are released we'll wait a couple more weeks and release the full Mythic difficulty on all bosses.
Now to the biggest addition of the patch raid-wise: Shards of Domination. These can randomly drop from all bosses of the raid on your first kill of the week regardless of difficulty, and can then be socketed into Domination Sockets, a brand new type of socket that will appear on all Helms, Shoulders and Chests loots from Sanctum, 2 additional slots depending on your armor type.
Shards can be of 3 different types: Blood, Frost, and Unholy. While you can only wear 5 shards socketed at the same time, having 3 of them from the same type triggers a Rune Word that further increases your gear's effectiveness - this time only in the raid, Torghast, and The Maw.
The third and final new loot you can get on bosses is Stygian Embers, which are used to upgrade your shards from rank 1 to rank 5, improving their effectiveness. This may seem a bit confusing, but everything related to that is thoroughly explained in
this guide
, don't hesitate to read it!
One last thing to mention is the Great Vault, whose "Raid" Category is now gonna be filled by Sanctum Bosses defeats, and not Castle Nathria ones anymore!
As you can see a lot of power-ups are linked to the raid, now more than ever with those new Domination Shards & Sockets! So get your guild together and get ready by reading the full guild
here
!
MEGADUNGEON: TAZAVESH
After Karazhan in Legion and Mechagon in BFA, welcome the new Megadungeon of the Shadowlands: Tazavesh, the Veiled Market!
An 8-boss instance only available in Mythic difficulty (and NOT in Mythic , which will be released alongside Heroic difficulty in patch 9.2) split into 2 phases: an exploration of the Market for the first half followed by a chase through Stormheim and Boralus before finally returning to Tazavesh. Here are the 8 encounters:
Zo'phex the Sentinel The Grand Menagerie Mailroom Mayhem Au'myza's Oasis So'azmi Hylbrande Timecap'n Hooktail So'leah
This dungeon features a Hard Mode but unlike Mechagon, you will need to activate it at the start. The method to do so is quite complex, everything you need to know is explained in this
guide
. This will cause every boss to have additional mechanics, and better loots qualified as Priceless Mythic 233ilvl, an achievement, and even a special mount: this might not be Mythic but it's still really worth it!
NEW MYTHIC SEASON
Speaking of Mythic : new major patch, new season!
You know the drill, dungeons have seen their difficulty increase as every mob and boss received health and damage buffs to accommodate for the higher ilvl obtainable. Rewards for Season 2 will follow this chart, which also displays Season 1 values so you can compare them:
A new seasonal affix takes over Prideful for every key of level 10 or above: Tormented.
If you played on BFA you most likely remember 'Awakened' which Tormented took inspiration on:
4 Lieutenants will be present in each dungeon. Whenever one is defeated, you get an Anima Power just like in Torghast! You can choose not to kill them, but for each lieutenant still alive the final boss of the dungeon will receive an aura making the fight harder!
This makes it clear that killing those lieutenants is better: but it also takes more time so the call will be yours depending on the key level, your composition, and how well it can handle additional buffs on that dungeon's final boss.
Some Quality of Life changes have also been added related to Keystones:
Upon completing a Mythic in time, anyone from the group with a keystone at or below its level will be able to reroll it once by talking to the dealer Ta'hsup by the chest. Very useful if you don't like your key's dungeon!
Ta'hsup will also be located near the Great Vault in Oribos and will offer you a keystone if you don't have one, provided you did at least one SL Mythic dungeon on that character. Great for Alts, or even your main character if it didn't play one week!
Finally, Ta'hsup can lower the level of your Mythic Keystone on demand. No need to mass reset dungeons to lower it yourself!
Last but not least, Dungeon teleports for everyone!
Well, for everyone but not right away: to unlock the portal you will first need to complete its corresponding dungeon on a 20 key (or higher) in time. But once you do, every 8 hours - resetting after completing a Mythic run - you will be able to instantly get to a dungeon's entrance; pretty cool right?
NB: You will no longer be able to upgrade dungeon items from season 1 using Valor, as their ilvl values are now different.
NEW PVP SEASON: UNCHAINED GLADIATOR
Adepts of PVP rest at ease, a new season also begins for you: the Unchained Gladiator one!
Aside from the obvious ilvl reward increase that comes with this 2nd season, there is one notable change introduced in this patch: Every PVP item will see its ilvl scale up when engaged in PVP combat (World, Arena, Battlegrounds), unrated gear scaling more (between 17 and 36 ilvl increase) than rated gear (13 ilvl increase).
This was designed to give an edge to players who invest time in PVP to gear themselves up, compared to someone fully geared from Raid / Mythic . That being said, the new Shards of Domination effects from the raid will work in PVP!
Conquest and Honor gear received no functional change, the first kind still requiring rated rating; and the second renown levels:
Honor gear starts at 177 ilvl (scaling to 213 ilvl in PVP) Rank 1 which can then be further upgraded up until rank 7 (216 ilvl - 233 ilvl in PVP)
Conquest gear starts at 220 ilvl (scaling to 233 in PVP) Rank 1 which can then be further upgraded up until rank 5 (246 ilvl - 259 ilvl in PVP)
For a more detailed overview - including upgrade costs/requirements - of this new season, we advise you to check
this guide
which has everything you might need!
We're pretty excited to release this new patch 6 months only after Oribos was unveiled on Firestorm: it comes with a lot of new content and changes to existing systems designed to make your journey in the Shadowlands more interesting, rewarding, and satisfying!
Our developers and staff members will be there to make sure appearing issues get fixed in a heartbeat: keeping you entertained is what we thrive in!
Mark your calendars, and we'll see each other on July 4th, ready to roll! In the meantime study the guides, but don't hesitate to ask the community or staff members for help and guidance. And remember that your favorite cow Boris will also be returning, a great opportunity to introduce some friends to Firestorm!
See you in a few days on Oribos for the release of the 9.1: Chains of Domination patch!
The Firestorm Team
More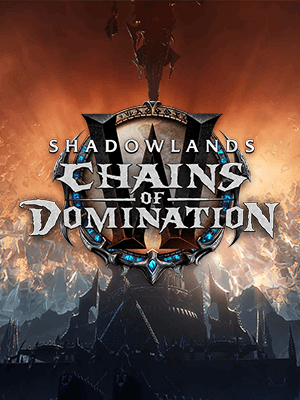 June 24, 2022
Oribos
Oribos 9.1 Content Update
More

Firestorm
30176 like

Firestorm International
August 8, 2022
The 3rd wing of Sanctum of Domination is now available in LFR, NM and HM difficulties!
Good luck for those 3 new encounters, including Kel'thuzad!

Firestorm International
July 28, 2022
The weekly Cache of Sanctum Treasures could reward gear from SoD's 3rd and 4th wings which aren't available yet: every illegitimate item has been removed from the player's inventory, and a corrected cache has been given back instead!



Firestorm International
July 26, 2022
You can now fly in the Shadowlands!
Complete Chains of Domination's 4th campaign chapter to unlock flying in all characters of your account!

Firestorm International
July 20, 2022
Our shop has been updated to include the Sanctum of Domination's 2nd wing's boss loots at a piece and in our lootboxes !

Shards of domination are also available in their own category here: https://firestorm-servers.com/shop/index

Firestorm International
July 18, 2022
Greetings Shadowlands!

The 2nd wing of Sanctum of Domination has opened its doors this morning in LFR, NM and HM difficulties, as planned 2 weeks after the initial raid release!
Soulrender Dormazain, Remnant of Ner'zhul and Painsmith Raznal await, to show you who's the boss: make them realize their mistake!

Tests on the 3rd wing are still ongoing, and you can expect it to be released in 2 to 3 weeks.

Good luck to all of you, and see you soon!

Firestorm International
July 13, 2022
We'll be hosting the Firestorm Summer Cup, a 2v2 pvp tournament in around a month, and you have up until Wednesday August 3rd to apply here: https://forms.gle/PTACiYatsDKRNdTF9
In the following weeks find a teammate, gear yourself up and get ready for a brawl with a real cashprize!
More info will be found on Discord!

Firestorm International
July 4, 2022
Our 9.1 update - Chains of Domination - is now LIVE on Oribos!

Come experience many new features, and even invite friends thanks to Boris who offers a free boost with gear on all of our realms for a full week!

Have fun on Firestorm!

Firestorm International
May 4, 2022
Covenant Campaign's 6th chapter is now available: upon completing just relog and you'll have the 3rd and final soulbind unlocked on your whole account !

Somes fixes were applied on The Maw: https://firestorm-servers.com/changelog/sl

Firestorm International
May 2, 2022
On Wednesday May 4th the 6th Covenant Campaign chapter will be released, unlocking the 3rd and final soulbind tree !
The final power spike that will help you conquer the Shadowlands is at your fingertips !

Firestorm International
April 15, 2022
Greetings!

Easter egg hunt event is finally up with so many rewards awaiting for you!

Not only that, but we have a giveaway going on right now on our Discord where you will have a chance to win 1 month VIP + 150 Firestorm Points, so hurry up and participate!

Note: The issue with the transmog in-game shop is fixed now!

Have a nice day.
The Firestorm Team