news
Stay informed about news of the server
Sethraliss
January 29, 2021
BFA 8.3 Devblog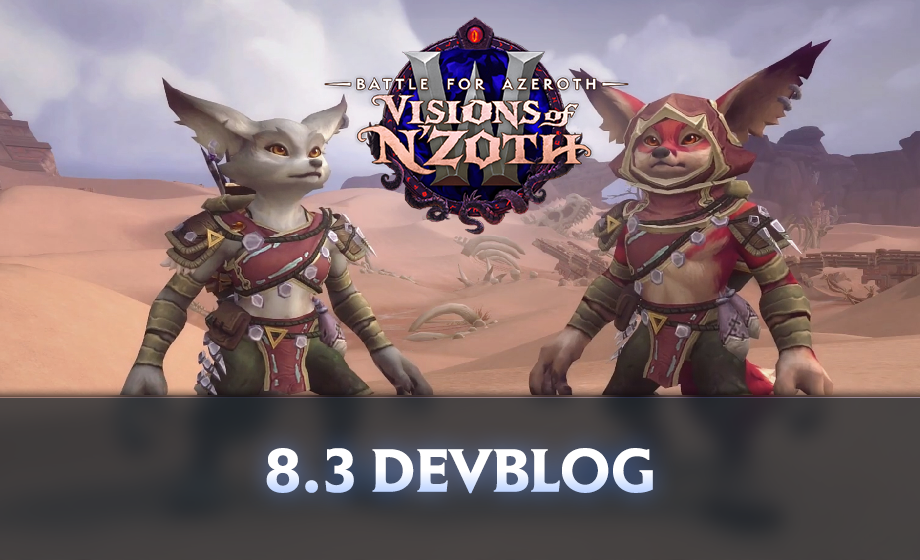 Three months ago, we discussed for the first time the state of the upcoming update on Sethraliss, our BFA realm: the 8.3 patch Visions of N'Zoth.
For those of you that missed it, or simply want to compare the evolution since then, you can find the post here. We also had our first talk about what comes afterwards: Shadowlands.

While it's still too early to give additional details about this next expansion of World of Warcraft, we thought it was time to give you some fresh news on the 8.3, and every change it includes.
As a reminder, our current client is in 8.2.0 version, which means it will need to be updated when this ships to live: some of you are used to it, it will consist on a small patcher download (around 40Mbs), that will need to be placed in your client folder and started to get all of the new assets & client changes. Simple ! Content will then be released progressively, to reflect what happened on retail, and what you're used to here.

But I'm getting ahead of myself: rest assured we'll cover that in details in due time. For now let's take a look at what we have in store !
The Horrific Visions system is working, and testing phase has already started: those are scenarios designed for 1-5 players taking place in alternative versions of Stormwind or Orgrimmar where N'Zoth's corruption thrives. You need to hold as much as possible before losing all your sanity: this mode will allow you to upgrade your legendary cloak.

The legendary cloak Ashjra'kamas' questline has been scripted: this item can be upgraded and will offer protection against sanity loss during your Horrific Visions run, and against Corruption on equipment. Its different appearances are working, but the two spells it can bear are still a WIP.

The Mythic Season 4 Affix: Awakened is fully scripted, including commanders. Final tests will be done to check if everything is working as intended.

The new PVP Season's rewards have been scripted and tested for the most part at the moment. The reworked Deepwind Gorge is also working !

Assaults are soon done, then testing phase will start. Happening in either Uldum or Vale of Eternal Blossoms, they will come with dailies, events, rare mobs to slay and even more !

The 2 new World Bosses will be worked on shortly, and will then require testings

Operation: Mechagon will now be splitted in two (think like Return to Karazhan in Legion) and available in Heroic & Mythic difficulties. The developper in charge has scripted everything, and testings are ongoing !

The first wing of the new raid: Ny'alotha is fully working and has been tested quite extensively. Following wings (that won't be released at the same time) have already been scripted for the most part, and tests have begun.

Most class balance changes have been reported, scripted, and confirmed as fixed !

The 2 new allied races (Vulperan & Mecagnomes) are close to be fully operationnal: only one Vulperan racial still needs work.

The new system that replaces titanforging, called Corruption is fully working, and the corruption spells themselves have also been scripted, and they are being tested as we speak.

Titanic Purification will be worked on soon: this will allow you to remove the corruption effects from items. An alternative way exists that will swap the corruption effects for a guaranteed socket !

The Azerite vendor has been updated, but tokens still need to be fixed: reminder that unlike the last season change this time you will NOT keep your titan residuum so don't mind spending it now !

The reworked Auction House will be fully working!

Some older contents received a bit of love, but this part is still a work in progress, so we're keeping it a surprise for now !
As you can see, things have evolved since last time, but there is still quite a lot of work to be done especially on the testing side since a client update induces a lot of generic changes: we want to make sure that your player experience is improved upon release, meaning everything that works now needs to be working, alongside all of the new content we'll bring !

For those reasons, we still cannot give you any estimated date of release yet, but we're getting closer every day, and doing our best to make it a successful and enjoyable release ! As a reminder, if you wish to help testing you could do so by joining our Quality Assurance team: if you're interested, or have any question feel free to contact Astagan#6584 or Tarkkhbeast#8316 / Beastial, respectively Head and Admin in charge of the BFA QA. You can both find them on our public discord.

Thank you for your patience and fidelity,
The Firestorm Team